Saturday adventures in The City
Every Saturday I ask Mike the question that I think he's come to dread, "What are we going to do today?" I like doing a family-oriented event on at least one of the two days that comprise the weekend, even if the event is as mundane as driving to our
favorite Mongolian BBQ place
in San Jose then taking a stroll at the "Euro-village"/mall,
Santana Row
.
Yesterday I felt like doing something touristy so Mike suggested we take CalTrain into San Francisco, eat lunch, and wander around. At first I was hesitant to agree. I'm a suburban mom dependent on her SUV! What if something bad happens and we need our car?!?! Schlep a heavy diaper bag around the city?!?! Are you nuts?!?! Just thinking about being without my car -- my tank, my fortress -- made me want to curl up in the corner and suck my thumb. But I agreed. Mostly because I can't make the argument that a particular event is too hard to do when
every day
borders on too hard to do when you've decided to let a toddler and an infant share your life. I also agreed because we are thinking about spending a week in New York this fall and our days will be filled with the schlepping of the children across the urban terrain. Oh, the schlepping! We'd better start practicing if we're going to pull off the New York trip.
So we readied the diaper bag with dipes, wipes, spare outfits, and snacks; loaded the double stroller; and drove our trusty SUV to the nearest CalTrain station. Here are the snaps to prove it (the kids look only mildly stunned):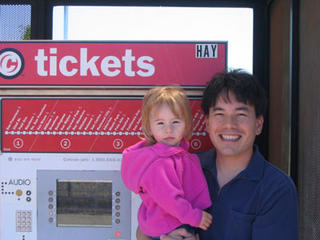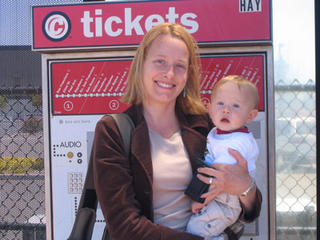 The train ride into town was fairly uneventful. There were some hip and cool teenagers on the train who didn't say hi to Emily after she said hi to them. I remembered being that age and how I was so insecure it was almost painful. I probably would not have said hi to a baby either. I also remembered the last time I took CalTrain. I was returning to the city after spending the night at my friend and old college roommate Zinky's parent's house. The night before we had seen David Bowie at the Shoreline. It must have been 1989 or 1990. Wow. That was 15 years ago! Jeez, I'm old.
In San Francisco we had a yummy but fast Indian lunch. Emily wasn't into sitting down and behaving so we scarfed our food and continued on our journey. We spent some time hanging out at
Yerba Buena Gardens
, where Mike took this snap of me and Thomas: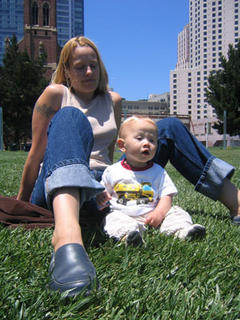 After that we wandered over to San Francisco Centre but shopping's no fun with kids in tow so we hoofed up Powell St. to Blondie's Pizza to get Mike a slice of the cheese. At that point it was time to head home so we walked back to the CalTrain station and caught the 3:00 train. The kids were OK on the ride back, but it was obvious they were bored of the outing. Lessons learned I can use during our New York trip:
Super comfortable walking shoes are a must. I thought I had some, but they weren't comfortable enough for the miles we walked. I'll have to look around for some comfy shoes that aren't trainers, which I don't particularly like for everyday wear.

Put toys in the diaper bag for Emily. I keep forgetting that it's almost more important for her to be entertained that it is for Thomas. Anyway, he's usually content to breastfeed if bored. Lucky guy.

Manhattan, here we come...